Setup: SQL Server Express
After verifying and installing the prerequisite software components, Setup determines whether an instance of SQL Express is installed at this PC. If no instance of SQL Express is found at this PC, Setup displays the following dialog: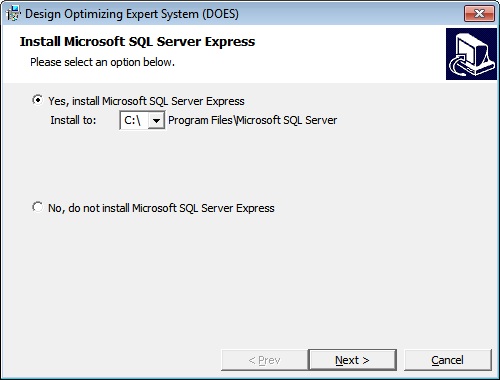 Click the "Yes, install Microsoft SQL Express" radio button. If your PC has more than one hard drive installed, the dialog presents a drop down list of candidate drives for the target install directory for the SQL Express installation. If you wish to install to a drive other than the C: drive, select the desired drive. SQL Express will be installed to the Program Files/Microsoft SQL Server folder on that drive. Click the Next button to install SQL Express.
While SQL Express installs, its Setup program may display progress dialogs. No response is necessary from you while SQL Express installs. SQL Express installs an SQL Server instance named DOES on your PC.